Atlanta Christmas Light Installations
The Christmas holidays are often celebrated with the iconic Christmas tree draped with ornaments and lights nestled in the living room among other indoor Christmas decorations. Though more and more often, homeowners are starting to decorate the outside of their homes with holiday lights. Decorating the outside of the home with professionally installed Christmas lights is a great way to celebrate the holidays.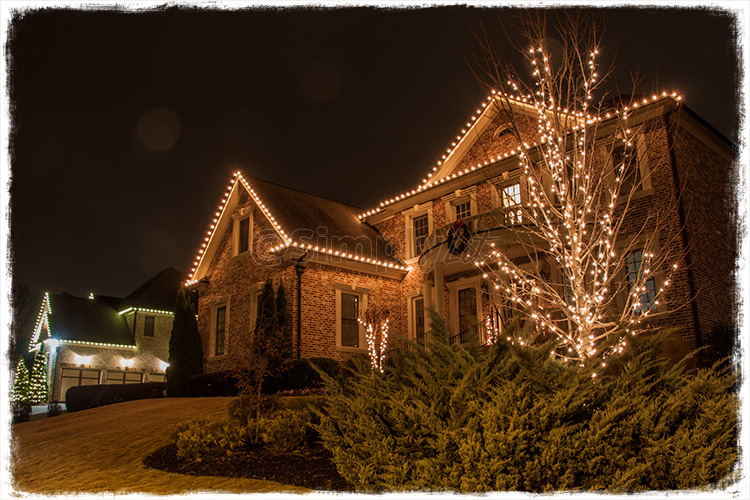 We have been installing Christmas lights in the Atlanta area since 2011. Every year we decorated over 400 homes and plan to install many more beautiful displays this year.
We offer a professional Christmas light installation service including design, commercial-grade products, professional installation, and timely removal of the Christmas lights.
Design Inspiration
For decorating ideas, you may visit our Christmas light photo gallery to be inspired for ideas to decorate your home. We can decorate the front eaves of the home, the rooftop, pillars and columns, outdoor trees, shrubs and bushes, outline sidewalks, driveways and planters, hang wreaths and garland, and much more. Once you have some ideas in mind, you can speak with one of our design consultants or submit a request for proposal to receive an estimate for outdoor Christmas lighting at your home.
Quality Products
We only use commercial grade Christmas decorations for our displays. All C9 lights used on the homes will be custom-cut to fit your unique home. We never use cheap Christmas lights from the big-box retailers. We will provide all the lights, accessories, extension cords, and timers. We will not use any materials or decor provided by the client as we need a consistent product among all of our customers.
Quick Estimates
After contacting us, we will try out best to design a display and respond back to you with pricing within a few days. We'll email a quote with a few options and different types of lights. Together we can settle on a design that fits your expectations and is within your budget. Once we decide on a design, we can go ahead and schedule. Our calendar always has openings so we may be able to install your lights as soon as the next day.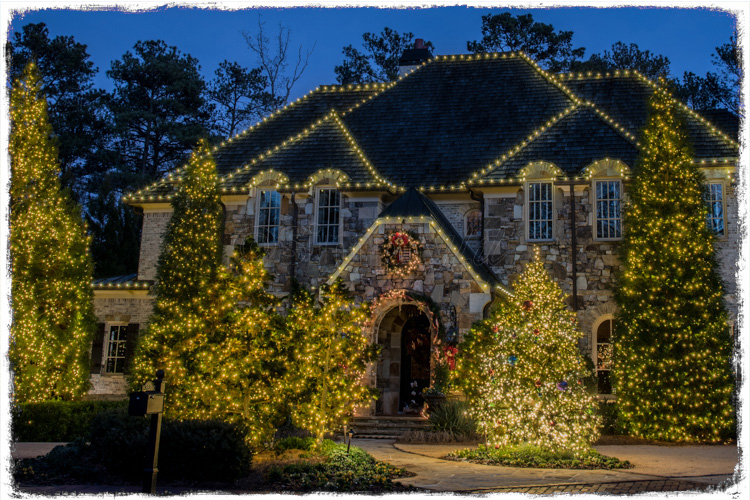 Professional Installation
Your Christmas light display will be installed by one of our experienced two-person crews. All new installations are completed by our experienced crews with over multiple years of experience installing lights! You will not find a more experienced Christmas lighting company. We take pride in our work; the display will look very clean and professional or we'll fix it. The Christmas light installers will have everything they need to ensure the display is completed. As a customer, there is no need to provide any tools, equipment, or product.
Automatic Timers
We use photocell timers on all of our installations. These timers turn on at dusk (may vary throughout the season) and run for a set duration. We typically set these for 6 hours, but the timers can be set for 2, 4, 6, 8 hours or dusk-to-dawn. Usually the timer turns on around 5:30 PM. These timers are very simple and fool-proof.
Free Service Calls
Although we don't anticipate anything to go wrong with the installation, there's always a possibility that you may not be satisfied. If anything is not right, just give us a call and our service crew will be out within the next 24 to 48 hours to address the problems. There's never any charge for service calls.
All-Inclusive Service
We provide everything necessary to light your home for the holidays. Just approve a design and we'll handle the product, the installation, service calls, and removal, and storage. The decor used in the displays will remain property of Simply Lit.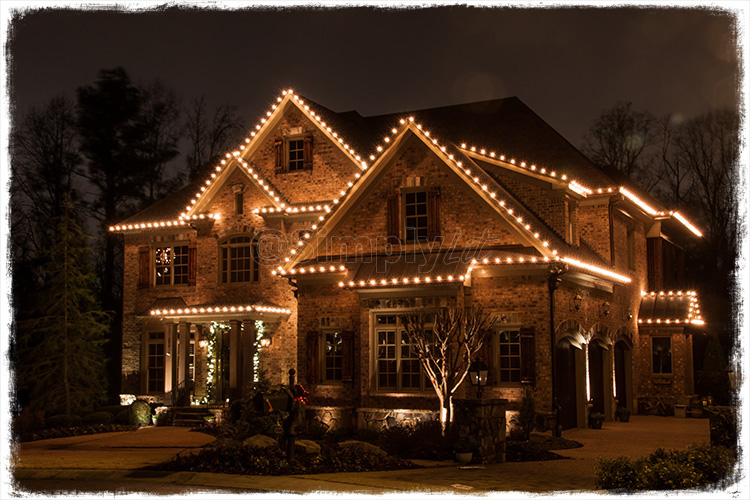 Timely Removal
The same experienced Christmas lighting crews who install the displays will be back after the first of the year to remove the Christmas decorations. This process can take up to three weeks, so don't be alarmed if your lights haven't been during the first week of January. The lights will be labeled, bundled, and neatly put in a box for easy storage until the following season.
Re-Installations
In the following year we will contact you to set an appointment to have your Christmas lights re-installed. We begin installations during the first week of October.
Scheduling
In order to grow our business and install more lights for new customers, we encourage you to have your lights installed as early as possible. We begin taking appointments for the beginning of October and are very busy by the first week of November. If you are not on the calendar early, we may not be able to fit you into our schedule, so please do contact us and have your lights installed early. You can always wait until Thanksgiving to turn the lights on.